News
Sunday, December 8, 2019 9:24 AM
Annual Santa Parade
Trustees Rose Brown, Rick Lawler, Tiger Graham, and Barbara Borsack participated in the Santa Parade on Main Street yesterday.


---
Thursday, November 28, 2019 7:28 AM
East Hampton Star Article
East Hampton Village Has Big
Plans for Centennial Celebration

A Fourth of July parade in East Hampton Village in 1921
By Star Staff
November 27, 2019
To mark the 100th anniversary of the incorporation of East Hampton Village, there will be a series of events in 2020, beginning in January with the unveiling of a new village seal and culminating with a centennial parade and other festivities on Sept. 26.
In August 2018, Mayor Paul F. Rickenbach Jr. appointed Barbara Borsack as chairwoman of the centennial celebration committee. At the time, Mr. Rickenbach recounted the history of the village's formation. On Sept. 25, 1920, he said, residents had voted, by a margin of 166 to 57, to break away from East Hampton Town. "Needless to say, we have all reaped the benefits of this vote," the mayor said.
The centennial committee includes Rose Brown, a member of the village board, and representatives from the East Hampton Clericus, the Hamptons International Film Festival, the East Hampton School District, the Ladies Village Improvement Society, the East Hampton Library, the Garden Club of East Hampton, and the Village Preservation Society, among others. Ms. Borsack has enlisted Bess Rattray, the editor of The Star's East magazine, to organize the parade day events.
Over the past year, Ms. Borsack said, committee members have been coming up with ways to celebrate the occasion. Plans are still being firmed up, but as of now, she said, presentations on the history of the village and the town will be held, schools will incorporate lessons about the 1920s into their curriculums, and a time capsule will be buried. "It will be a yearlong community event," she said.
To kick things off, a new village seal that acknowledges the centennial will be unveiled at the first board meeting of the new year. It was designed by Scott Bluedorn, a local mixed-media artist. "It's very pretty," said Ms. Borsack. "I'm excited to show it off."
On Parade Day, Main Street will be closed to traffic, as it was in 1998 during the celebration of East Hampton Town's 350th anniversary. "I remember thinking [the closure] was a once-in-a-lifetime thing," said Ms. Borsack. "Now I'm happy we're going to have a second opportunity."
"There's something so thrilling about being able to walk down the middle of Main Street," said Ms. Rattray. The parade, she said, will be held in the morning. There will be about 20 1920s-theme floats, and Hugh King, the village's historic-site manager, will be perched on a reviewing stand, announcing the floats as they go by.
Ms. Brown thought up the theme for one of them: a replica of Village Hall with the members of the board on board. James McMullen, an architect and the chairman of the Design Review Board, has agreed to design it, she said, and Ray Harden, the co-owner of Krupinski Building and the vice chairman of the Zoning Board of Appeals, will construct it. "It's amazing to have so many talented people donating their time and effort," Ms. Brown said.
In addition to the floats, there will be musical performances by Dixieland bands, and the handbell choir from the East Hampton Presbyterian Church. A team from the Dance Hampton studio will perform a '20s-era dance.
Food vendors will be stationed along Main Street. Ms. Brown said that Harbor Bistro, Dreesen's, and Homeslice Pizza are a few who will be on hand. And village restaurants plan to offer $19.20 specials.
The L.V.I.S. will provide tea service and jazz, and movies from the Roaring Twenties starring actors such as Buster Keaton and Charlie Chaplin will be shown at Guild Hall. LTV, the public-access broadcaster, has been tasked with finding vintage footage of village people and places.
There will be tours of historical village houses and gardens, and, to get Main Street storeowners into the spirit of the occasion, Ms. Borsack and Ms. Brown plan to introduce a resolution that would permit them to decorate their businesses in red, white, and blue bunting on the day of the event (also on Memorial Day, the Fourth of July, and Labor Day).
To cap off the day, there will be a baseball game at Herrick Park, which will include the singing of the national anthem, as well as performances by the East Hampton High School acappella group and other musicians.
Anyone interested in entering a float in the parade or volunteering in any other way have been asked to email EHVcentennial@easthamptonvillage.org.
---
Sunday, November 24, 2019 11:22 AM
Letter to editor East Hampton Star
Lawsuit Dismissals
East Hampton
November 12, 2019
Dear Editor,
I am writing to give you some background on some recent disturbing events regarding the upcoming village election.
As stated in my letter to the editor of two weeks ago, Mr. Larsen and the village parted ways at the end of 2016. I will not get into the reasons for that here. I simply want to make it clear that what has happened since then goes beyond the bounds of what some would think is customarily part of a normal village election campaign.
As was reported in The Star, Mr. Larsen sued the village shortly after his separation, and in that suit alleged things about me that he knew were blatantly false. Why he targeted me in particular is anybody's guess. I believe I know the reasons for it, but I will not speculate here. Fortunately, the lawsuit was dismissed, but not before great cost to the village taxpayer. To demonstrate the frivolousness of his suit, he proceeded to sue the village a second time, for not supplying him with requested information under the Freedom of Information Act for his first lawsuit. Curiously, he filed the second lawsuit even before the allotted time frame for supplying the originally requested information had elapsed. That suit also was dismissed, but, again, not before costing the village taxpayer thousands of dollars.

I mention the initial lawsuits as the precursor for what was to come. After the lawsuit dismissals, Mr. Larsen began a campaign of continuing FOIA requests to the village in the hopes of finding something that the village board, and in particular me, had done that could be construed as illegal or unethical.

In all, he has requested information from the village a total of at least 12 times since his separation. The bulk of those have been since he began his campaign for mayor. Most can be considered legitimate inquiries, with some exceptions. He always makes them very general in nature, and in many cases he singles me out when requesting information. This suggests that he is on a fishing expedition, rather than a legitimate effort to support a belief that he may uncover some wrongdoing. His requests range from his original lawsuit, having no merit, to the very mundane request for the Fire Department gym records. What information he hopes to glean from gym records one can only imagine. Again, these requests require a great deal of manpower and expense in order to fill. One such request took 30 employee hours to complete. He knows that if the village should innocently miss supplying him with just one piece of paper that pertains to his request, he could then sue us for not completely filling that request.

Most recently, his FOIA requests have taken on a more personal and perhaps sinister nature. In the last month, he has requested all information that the village has on two properties that I am associated with in the village, including my personal residence. I am not concerned with what is in those records. My concern is that he is using the guise of his campaign to intimidate me from exposing pertinent information about him.

My concerns are supported by the fact that his latest FOIA request for my personal residence records occurred early Friday morning, Nov. 8, the day after my letter exposing his unethical issues appeared in your paper. To me, that is a clear effort to intimidate, since those records have nothing to do with the issues most important to village residents.
The other curious thing about all of this is that I am not even running against Mr. Larsen for mayor in this election.

Therefore, there is no other reason for him to target me other than for personal reasons.Sadly, Mr. Larsen has opened the door to this unnecessary dialogue, and it is my sincere hope that moving forward we can all concentrate on those issues that will affect village residents in the future. Our continued existence as one of the "most beautiful villages" you will find anywhere is at stake.

Sincerely,
RICK LAWLER
---
Sunday, November 24, 2019 9:25 AM
Letter to editor East Hampton Star
Tired of It
East Hampton
November 18, 2019
Dear David,
I am not one to write letters to The Star but after the constant articles on and letters from Jerry Larsen, I now feel compelled. Quite frankly, I, and many others, are tired of it and are more concerned in the affairs of this beautiful village. It is a shame how personal this has become for him, and none of this has to do with the issues, so I am going to be as quick and precise as possible.
It is a well-known fact that Mr. Larsen is renting a one-bedroom apartment in the Village of East Hampton. It is also very well known that he is not living there. Therefore, he is not paying village taxes — the village that he cares so much about.
Another fact is that apparently, his contract was not renewed as chief of police. While he received some awards and recognition, it is obvious that he abused his powers and responsibilities while being the chief.
My question would be: What were those abuses?
I think the above says something about Mr. Larsen's character and, quite frankly, I don't think this is someone I would want making decisions regarding the village. Let's stop the finger pointing and stating untruths.
I anticipate that next week Mr. Larsen will take this, twist it, turn it around, and try to defend himself, once again. That only serves for Mr. Larsen to get some self-satisfaction, nothing to do with his vision for this village, which makes me wonder what his real motives are.
I urge him to stick to the issues of the village and stay away from any further mud slinging. Enough is enough! Move on!
Respectfully yours,
VERONICA STROEBEL
---
Friday, November 8, 2019 8:02 AM
Letter to editor East Hampton Star
November 4, 2019
Dear Editor,
In response to recent statements that appeared in the local press regarding Mayor Rickenbach's opinions about transition plans upon his retirement in December, we would like to make the following clear to the public:
We respect the mayor's decision to announce his impending retirement in December, and we believe that any decision regarding how best to transition from the mayor's retirement to the June election should be made openly and transparently.
There is no vacancy at this point and the mayor has indicated he won't retire until Dec. 31. Should the mayor formally retire in December as he has indicated, we believe the board should have a public discussion at a public meeting before deciding on how best to facilitate the transition.
The most important thing in our opinion is for the village to be efficiently and effectively managed during the transition period until the next mayor is elected in June and installed on July 1.
Jerry Larsen's false allegation that the village board is being unethical by simply following New York State law after Mayor Rickenbach leaves office at the end of this year is offensive. The law provides that the deputy mayor shall assume the responsibility in the absence of the board appointing a mayor until the next election.
Mr. Larsen's unethical assertion is unfortunately typical of his self-serving propensities, since it was his own lack of ethics and abuse of authority for his own personal gain during his tenure as village chief of police that precipitated the unanimous decision of the village board to refuse to renew his employment contract with the village in 2016.
Sincerely yours,
RICK LAWLER
Deputy Mayor
BARBARA BORSACK
Village Trustee
---
Saturday, November 2, 2019 9:41 AM
Real Men Wear Pink Cocktail Party
In 2011 Barbara Borsack founded the "Real Men Wear Pink Cocktail Party". With a committee of 15 friends this event has taken place every October. This year, on October 19th, it was held at The Clubhouse in East Hampton. Three local cancer charities benefit from this event, the Ellen Hermanson Breast Center at Stony Brook Southampton Hospital, the Women's Cancer Coalition of Stony Brook Southampton Hospital, and Lucia's Angels, all of which assist women on the East End of Long Island who are dealing with cancer. Many thanks to the local businesses who donate items for the raffle and silent auction, the many folks who attend, and the women who give of their time and energy to make it all possible!
---
Tuesday, September 24, 2019 12:02 PM
Village Board Meeting
Friday, Sept 20th, The East Hampton Village Board approved the promotion of Greg Brown to Police Lieutenant, and Anthony Long to Police Captain, congratulations to both men.
---
Monday, September 23, 2019 8:00 AM
Historic Baseball Game
Trustees Barbara Borsack, Rose Brown, and Tiger Graham attended the baseball game sponsored by the East Hampton Historical Farm Museum at Herrick Park Sunday, September 22nd.
The game was the first game in 100 years between the Maidstone Mugwumps and the East Hampton Bonac team, which had been an annual tradition for many years.
---
Wednesday, September 18, 2019 6:23 PM
Ground Breaking
Village Board members joined Town Supervisor Peter VanScoyac and Fire and Ambulance Chiefs at a groundbreaking ceremony for the new substation being built in Northwest Woods.
---
Thursday, September 12, 2019 10:50 AM
9-11 Memorial Service
Last nights 9-11 Memorial Service was attended by Barbara Borsack, Richard Lawler & Rose Brown representing the village board.
Photo by: Douglas Kuntz (E H Star)
---
Friday, August 30, 2019 11:31 AM
Living in and working for the village since 1952
Photo taken for the East Hampton Star in 1956 in front of Barbara Borsack's family home on Accabonac Road to promote voters to vote on the acquisition of property on Church Street for construction of a new elementary school. Barbara is standing center right in front of her mother and joined by neighbors and other family members.
---
Thursday, August 22, 2019 2:10 PM
Opinion The East Hampton Press
From the August 21st edition of
The East Hampton Press
---
Monday, August 19, 2019 7:52 AM
Ellen's Run
Barbara worked this year on the registration desk supporting Ellen's Run. This is her tenth year.
Barbara is a breast cancer survivor and is in this years picture.
---
Thursday, August 8, 2019 6:48 PM
Gas-Powered Leaf Blowers Banned
Gas-Powered Leaf Blowers Banned
For The Summer In East Hampton Village
Click to read article from 27East.com
---
Monday, August 5, 2019 8:26 AM
Stony Brook Southampton Hospital Annual Summer Party
On Saturday, August 3rd, Stony Brook Southampton Hospital hosted its 61st Annual Summer Party in the fields at Wickapogue Road and Old Town Road, Southampton. The Annual Summer Party is a landmark event in the Hamptons and this year benefits the Jenny & John Paulson Emergency Department. Barbara & Ted Borsack were among those in attendance
---
Monday, July 22, 2019 9:06 AM
East Hampton Historical Society Party
In 1884, the Moran Family moved into the Thomas & Mary Nimmo Moran Studio and House on Main Street, the first artist's studio built in East Hampton. On Saturday, July 13, at a private oceanfront estate, the board of the East Hampton Historical Society invited members and supporters to celebrate the studio's membership in the National Trust for Historic Preservation, and the recent opening of their newest exhibition, "Thomas Moran Discovers the American West."
Barbara Borsack has been a long time member of the board of the East Hampton Historical Society and is shown here with Joseph Aversano and Mike Clifford.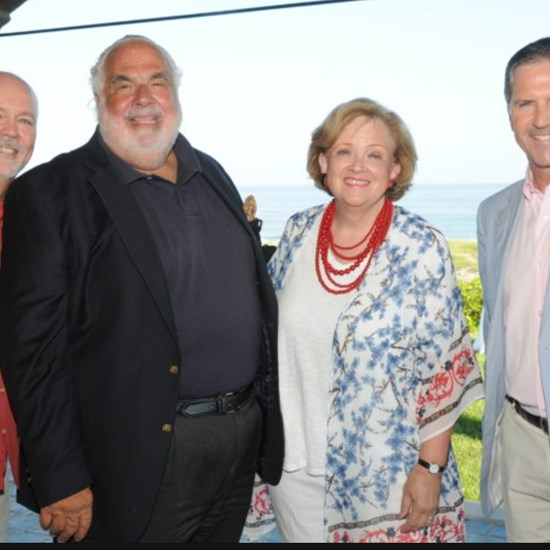 Photos by: Richard Lewin
---
Friday, July 5, 2019 9:48 AM
Fundraiser At Ina Garten's
Over 100 supporters partied in Ina Garten's lovely gardens and home in East Hampton on Saturday, June 29, in support of Barbara Borsack, a candidate for mayor in East Hampton Village in 2020. Along with Borsack, running mates Rick Lawler and Ray Harden joined the guests in kicking off the holiday week by enjoying food and drinks provided by Ina and her husband Jeffrey.
The Independent
---
Saturday, June 8, 2019 10:31 AM
Gardiner Mill Cottage Gallery Opening Celebration
Last evening Barbara Borsack and Richard Lawler attended the opening celebration of the recently completed Gardiner Mill Cottage Gallery.
Barbara Strong Borsack & Richard Lawler
Gardiner Mill Cottage Gallery / Opening Reception June 7, Open Weekends
---
Thursday, May 23, 2019 7:18 AM
Village Beautification Project
Village Trustees Rick Lawler, Rose Brown & Tiger Graham along with members of the LVIS and Village DPW inspecting new planters along Newtown Lane. The planters are part of a continuing beautification project along Newtown Lane and Main Street.
---
Sunday, April 28, 2019 8:30 AM
Hedges-Edwards Barn opening at Mulford Farm
Barbara & Ray attended the opening of the Hedges-Edwards barn yesterday at Mulford Farm on James Lane.
Celebrating the Hedges-Edwards Barn (East Hampton Star)
---
Friday, April 26, 2019 7:32 AM
Cancer Center Opening
Just attended the opening of the Stony Brook Southampton Hospital Phillips Family Cancer Center. I'm thrilled to see this state-of -the-art facility right here in our community!
Susie Roden, Barbara Strong Borsack and Stacy Quarty
(Photo by Richard Lewin)
Barbara Strong Borsack & Robert I. Ross
(Photo by Richard Lewin)

Kenneth B. Wright with his wife & Barbara Strong Borsack
(Photo by Richard Lewin)
The Phillips Family Cancer Center
27East Article About Cancer Center
---
Monday, April 22, 2019 7:45 AM
Village Board Meeting 04/18/2019
Click To View Video Online (courtesy LTV)
---
Sunday, March 31, 2019 12:00 AM
Ellen Hermanson Foundation In The Pink Fund Raiser
Barbara presented a proclamation to Rita Wasserman, from the Village of East Hampton, for her years of community service. Ellen Hermanson Foundation "In The Pink" Fund Raiser.
Steven Bernstein, Lawrence Alan Roth, Barbara Strong Borsack & Robert Ross
(Photo by Richard Lewin)