Welcome to The Elms Party website.
Barbara Borsack
Candidate for Mayor
Richard Lawler
Candidate of Trustee
Ray Harden
Candidate for Trustee
News
Thursday, August 8, 2019 6:48 PM
Gas-Powered Leaf Blowers Banned
Gas-Powered Leaf Blowers Banned
For The Summer In East Hampton Village
Click to read article from 27East.com
---
Monday, August 5, 2019 8:26 AM
Stony Brook Southampton Hospital Annual Summer Party
On Saturday, August 3rd, Stony Brook Southampton Hospital hosted its 61st Annual Summer Party in the fields at Wickapogue Road and Old Town Road, Southampton. The Annual Summer Party is a landmark event in the Hamptons and this year benefits the Jenny & John Paulson Emergency Department. Barbara & Ted Borsack were among those in attendance
---
Monday, July 22, 2019 9:06 AM
East Hampton Historical Society Party
In 1884, the Moran Family moved into the Thomas & Mary Nimmo Moran Studio and House on Main Street, the first artist's studio built in East Hampton. On Saturday, July 13, at a private oceanfront estate, the board of the East Hampton Historical Society invited members and supporters to celebrate the studio's membership in the National Trust for Historic Preservation, and the recent opening of their newest exhibition, "Thomas Moran Discovers the American West."
Barbara Borsack has been a long time member of the board of the East Hampton Historical Society and is shown here with Joseph Aversano and Mike Clifford.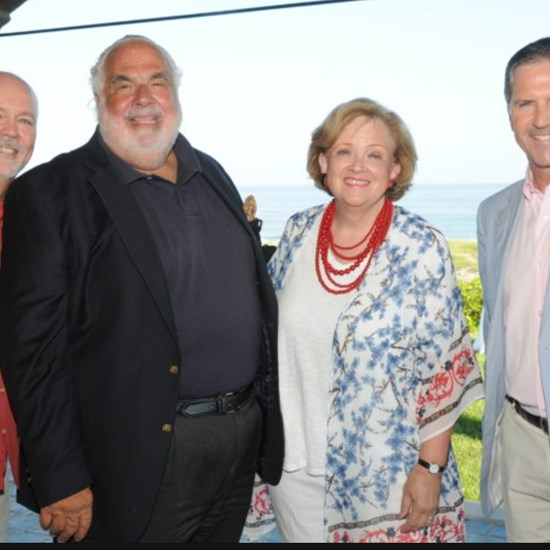 Photos by: Richard Lewin
---
Friday, July 5, 2019 9:48 AM
Fundraiser At Ina Garten's
Over 100 supporters partied in Ina Garten's lovely gardens and home in East Hampton on Saturday, June 29, in support of Barbara Borsack, a candidate for mayor in East Hampton Village in 2020. Along with Borsack, running mates Rick Lawler and Ray Harden joined the guests in kicking off the holiday week by enjoying food and drinks provided by Ina and her husband Jeffrey.
The Independent
---
Saturday, June 8, 2019 10:31 AM
Gardiner Mill Cottage Gallery Opening Celebration
Last evening Barbara Borsack and Richard Lawler attended the opening celebration of the recently completed Gardiner Mill Cottage Gallery.
Barbara Strong Borsack & Richard Lawler
Gardiner Mill Cottage Gallery / Opening Reception June 7, Open Weekends